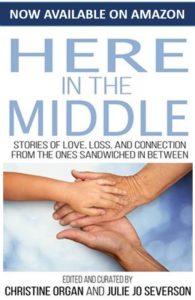 Book Launch Today: Three of the most exciting words a writer can hear, and boy, am I excited!
Here in the Middle–Stories of Love, Loss and Connection from the Ones Sandwiched in Between is being published today, and I am absolutely thrilled–and terrified, but more on that in a moment–to be included in this collection. When I first learned about this anthology from one of its two amazing editors, Julie Jo Severson, I knew right away that 1) this book would be something special, something desperately needed; and 2) I wanted to be a part of it.
I had a story to tell,  but, honestly, I wasn't sure if it would be a good fit–maybe my experience wasn't universal enough, maybe it was too different from what other families were experiencing. But as it turns out, that worry, that "maybe I'm the only one" sentiment, is precisely what's at the heart of this lovely anthology.
So many of us today, as we enter (ick-ack-can't say it-must say it) middle age, find that we're not only still raising our own kids, but are also increasingly faced with the additional challenges of caring for our aging parents, even grandparents–and so many of us, while blessed with the bounty of extra time with our parents and the precious opportunities that time presents for us, also find ourselves struggling mightily at the constant pulling on our resources in every direction.
The worst part of this struggle is that we believe, quite mistakenly, that no one else could possibly understand what we're going through; as Here in the Middle proves in such a moving, inspiring, and achingly tender fashion, that belief couldn't be farther from the truth.
We are not alone.
So I took a chance and submitted my piece, "Stars I Will Find," which I wrote as a way to process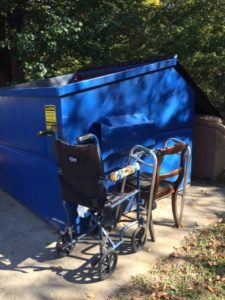 a tremendously difficult experience my family went through with my elderly dad last year. As I so often do when I'm struggling to make sense of something going on in my world, I wrote about it. Often, those types of writing are more my "therapy" than anything I would ever intend to see the light of a public day–they're just too personal. Writing about what happened was the easy part, the cathartic part; making the decision to share it publicly was downright terrifying. I'm a fiction writer, after all; making up stories about fictional characters is what I do, so sharing something so real about people I love so much feels incredibly frightening to me. But because I feel so strongly about the positive impact sharing our stories could have on other people facing many of these same issues, I knew that I wanted to share mine as a part of this incredible book.
I suspect that many of my fellow contributors underwent similar experiences–writing to understand, to learn, and to heal, but now, sharing, to help others. I give my heartfelt thanks and appreciation to our amazing editors, Christine Organ and Julie Jo Severson, for their inspiration, dedication, their tireless work to bring this book to fruition, and their faith in my story, as well as to my fellow contributors for their courage, humor, and generosity in sharing their stories.
No matter what stage of life you are in at the moment, I hope that you will pick up a copy of Here in the Middle, if only as a loving, compassionate reminder that some experiences are, in fact, more universal than we let ourselves believe, and that there is strength, hope, inspiration, and joy to be found in sharing those experiences with others. I would humbly ask, if you find the book helpful, as I believe people will, please be sure to let others know about it by sharing a review on Amazon, Barnes & Noble, or Goodreads. Thanks.
Happy Launch Day, everyone! #hereinthemiddlebook
NOW AVAILABLE ON AMAZON,  BARNES & NOBLE AND THE HERE IN THE MIDDLE WEBSITE!